The Wharton Club of Atlanta, Kellogg Alumni Club of Atlanta and London Business School Atlanta Alumni Club are pleased to invite you to our next breakfast series event, "MARTA: Past, Present, and Future" with Rukiya S. Thomas, Chief of Staff, MARTA. 

About our Speaker: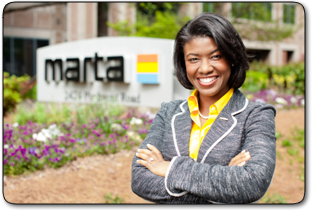 Rukiya S. Thomas, Chief of Staff, MARTA
Rukiya S. (Eaddy) Thomas, Chief of Staff for the Metropolitan Atlanta Rapid Transit Authority (MARTA) works closely with Mr. Keith Parker, AICP, General Manager/CEO as his principal aide. As Chief of Staff, Mrs. Thomas supervises a variety of authority-wide projects and initiatives such as the Atlanta Streetcar, Transit-Oriented Development, and several accountability efforts at MARTA that tackle organizational challenges which range from performance-based management to absenteeism. She has over twelve years of experience building relationships and expertise in the strategic planning, development and implementation of major programs/initiatives in the areas of public policy, economic development and transportation.
 Prior to MARTA, Mrs. Thomas oversaw External Affairs for the Atlanta BeltLine, Inc. Joining the team in 2007, she was an instrumental part of the Atlanta BeltLine's start-up phase. Mrs. Thomas managed a citywide public engagement program by partnering with thousands of community, business, and political leaders throughout 45 neighborhoods in order to shape and implement public policy to advance the Atlanta Beltline: the most comprehensive redevelopment and mobility effort undertaken in the City of Atlanta that will provide a network of transit, trails and parks. During her tenure, implementation of the BeltLine Citizen Participation Framework led to the adoption of 10 BeltLine master plans, an Environmental Impact Statement, and other significant foundational efforts. Now thousands of residents on the West and East sides enjoy award winning amenities in their BeltLine communities due to these early efforts. Prior to her work at the Atlanta Beltline, an early career in public affairs and communications was launched in Washington, DC in the early 2000's.
Mrs. Thomas calls Atlanta's Old Fourth Ward home and has always worked in the Atlanta community over the years. As an active member of the National Coalition of 100 Black Women she served as chair of its signature fundraiser Gourmet Gents in 2014. Mrs. Thomas currently serves as the Education Chair of the Atlanta Business League's Board of Directors, and as Vice Chair of the Fulton County Board of Registrations and Elections. She is a graduate of LEAD Atlanta, the Georgia Academy of Economic Development, Urban Land Institute Atlanta Center for Leadership, and a current participant in Leadership Georgia's class of 2015. Recent acknowledgments include being selected as Atlanta Business Chronicle's 40 Under 40 and Urban Land Institute's Global 40 Under 40 in 2014. Past acknowledgements for her service include the Outstanding Atlanta Award and the Forever Family Community Service Award. Mrs. Thomas studied Business Communications at Clark Atlanta University for her Bachelor of Arts and Political Communications at Pennsylvania State University for her Master of Arts.
Season Pass now available! Please note that ticket purchases are non-refundable.
---